Windows
Once registered, log in and download the client from the Downloads section.
Meetecho Java Installer (Win): it requires Java installed. Meetecho will be installed in C:\Programs\MeetechoClient and, if you want, a shortcut will be created both in the Start menu and on your Desktop;
Logging in
Once the client has been launched you will be asked for your credentials.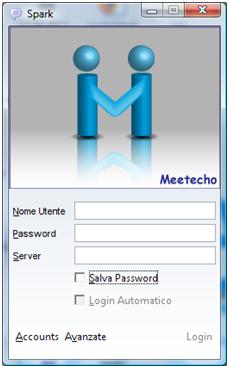 You have to use credentials and server name provided by the Meetecho Server Administrator.
The list of conferences
After the login phase you will be presented with the list of virtual rooms hosted by the server.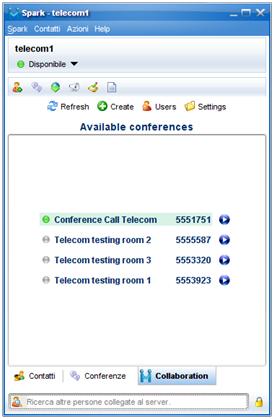 A tool tip will show you the tools available in every room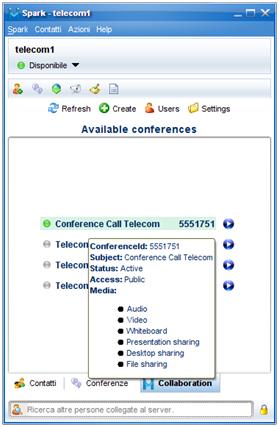 Information details:
ConferenceId: the unique identifier of a room;
Subject: room's subject;
Status:

Registered: the room is empty;
Active: at least one participant is in the room.

Access: if "Private" you will need a PIN to access the room;
Media:

Audio: VoIP or PSTN access;
Video: video mixing facility;
JSummit: whiteboard and polling ;
Slide Presentation: each user can upload a document to show to the other participants (supported formats: Microsoft Office, Open Office or PDF);
Remote Desktop: each user can choose to show his desktop and grant remote control to other participants.
Configuring the settings
You can set your preferences pressing the setting button on the right hand side.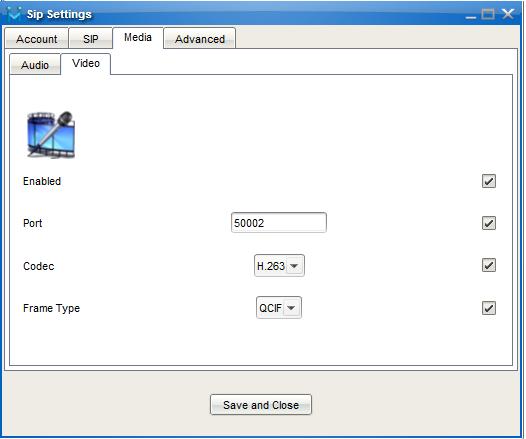 Joining a conference
In order to access a room you just need to double click the corresponding ConferenceID.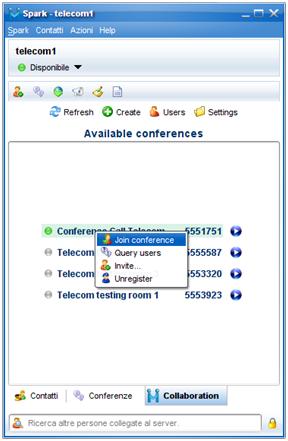 Room main view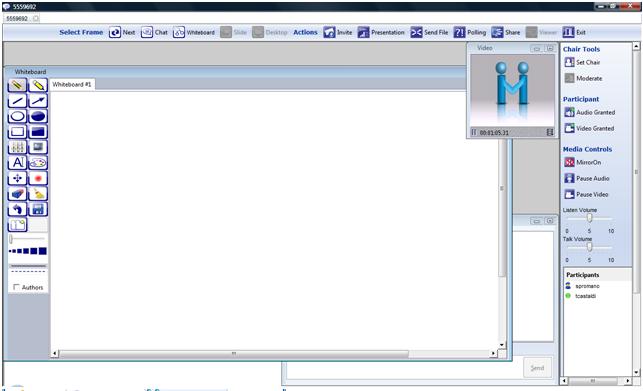 Audio/Video Moderation and Media Control
Once accessed the room a participant can use all the media available but it will not be able to transmit its audio and video flows.
To be un-muted and transmit your video you can use the "Audio Request" and "Video Request" buttons on the right hand panel.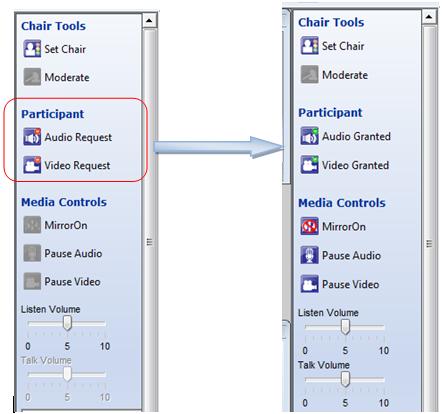 Taskbar and Shortcuts
The upper tools bar provide users with two different kind of tools

Using these buttons you can select one of the multiple windows opened in your client (corresponding to different available tools). The same buttons are used to notify important events happened in a window.
The right side of the bar let you use the following features

Invite: to invite users to this room
Presentation: to upload a document for presentation
Send File: to send a file to the other participants
Polling: to create a poll
Share: to share your desktop
Viewer: to open a remote desktop viewer
Exit: to leave the room
Troubleshooting
The Windows version of the Meetecho desktop client should work without problems. Nevertheless, a few issues may arise anyway. Check the following FAQ for other issues you might encounter while using the Meetecho client. Let us know if this FAQ actually helped you or not: your feedback is important to help us improve the service!
I can't login!
Are username/password correct? Please beware that the site registration account and the Meetecho system account are different things, and you need a Meetecho system account to access the collaboration functionality. If you're sure about your credentials, make sure no firewall/proxy/ALG is in place to filter XMPP traffic.

I don't see any video and/or my Participant controls are greyed out!

This usually means the SIP call to enable the audio/video functionality didn't work for some reason. Make sure no firewall/proxy/ALG is in place to filter SIP/RTP traffic, e.g. by your router and/or provider. Specifically, make sure incoming SIP messages are not blocked: in fact, we currently rely on a server-originated reINVITE to negotiate BFCP moderation (see

RFC4583

), and we noticed that in some environments the reINVITE is blocked and never reached the applications, thus invalidating the SIP session.

If you're sure SIP is supposed to work, use a third-party softphone to access the multimedia functionality (i.e., sip:0xxxxxxx@conf.meetecho.com, where xxxxxxx is the room number), and take advantage of the Meetecho client for all the other features.



Other people can't hear/see me!
Did you make an audio request using the Participant floor client panel? Moderation is involved for both audio and video, meaning you have to ask the system/chair for permission to participate to the mix. If you made the request and it got accepted, check your OS mixer in order to make sure the microphone is right enabled and being recorded.


Other questions to follow...

... and we will answer them!